2017 Egelhoff Cabernet Code Red 
2017 Egelhoff Cabernet Code Red A clean, modern-style Napa Valley Cabernet.  This wine offers juicy berry fruit with hints of dried cherry, cinnamon, clove, and cigar box aromas. Fresh and fruity on the palate one can enjoy this wine by the glass or pair up with a variety of pastas, pizza, and lighter meat entrees.Some of the greatest wines in California are a blend of various red grapes. The most successful blends follow the Cabernet Sauvignon and Merlot recipes of Bordeaux, but with even more intensity.
These wines are typically luscious and strong with lots of ripe blackberry, black currant, and vanilla flavors.
The warm days and cool nights of the Napa Valley in Northern California make it the ideal place to make Bordeaux-style red wines. Although the wines of Bordeaux have historically been considered the best wines of the world, the bolder, richer, and more fruit-forward wines of California are now just as respected.
Just like Bordeaux, California's dominant grape is Cabernet Sauvignon with its rich blackberry flavors. Merlot is added to soften the edges and add red fruit flavors. Cabernet Franc and Petite Verdot are even added at times for complexity. These California blends are very balanced and are great when they are young, but they can also age for decades.
Another popular blend is made from Grenache and Syrah. This style is a fuller and richer version of the wines of France's Rhône Valley.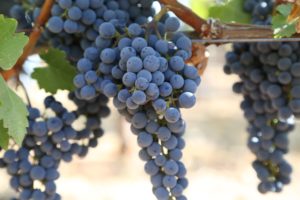 Egelhoff Wines was founded by long time Napa Valley vintner Bob Egelhoff with his first vintage of Egelhoff Wines dating from 1999. His background is both in viticulture and enology; he is a graduate of UC Davis. After managing vineyards for a brief period near Chico, California he moved to the Napa Valley – what better vineyard management company to start with then Beckstoffer. He worked for Andy Beckstoffer for several years in the mid 1980's and followed that with positions at well known Napa Valley wineries including Harlan Estate, Pahlmeyer, Chappellet and Merryvale.